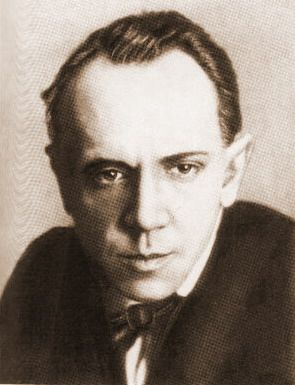 Michael Chekhov (1891 - 1955)
The nephew of the playwright Anton Chekhov, and was considered by Konstantin Stanislavski to be his most brilliant student. Indeed, Stanislavski once said that if anyone wanted to know what he was teaching, they should go and see what Michael Chekhov was doing. Michael Chekhov had a great talent for characterization and was a keen observer of the creative process. After heading the second Moscow Art Theater Studio, Michael Chekhov traveled and worked extensively in Europe in the 1920's and 1930's, and in 1936, established a training studio in England where he laid the basic foundations for his technique. In 1939 Michael Chekhov moved to the United States where he taught in both New York and Hollywood.
In 20th century America and Europe, most approaches to acting stem from the pioneering work of Konstantin Stanislavsky, whose methods resulted in a revolution in the way an actor prepared and presented a role. Although Stanislavski's research continued throughout his life and evolved for beyond mere "naturalism," his impact in the United States is largely limited to the "Method" School of acting. In fact, Stanislavski and his disciples moved far beyond the original ideas. They developed a theater that was bolder and more expressive and imaginative, using psychophysical techniques that liberated and excited actors, but have only recently begun to be appreciated and understood.
The psychophysical approach is most fully exemplified and realized in the work of Michael Chekhov, considered by Stanislavski to be his "most brilliant student," and widely recognized as one of the greatest actors of the 20th century. Michael Chekhov developed an approach to acting that affords the actor access to resources within himself-feelings, will impulses, character choices-that are based not merely in personal experience as they are in "Method" training, but on the actor's imagination and physical life.
Chance and history have deprived the larger acting community of Michael Chekhov's work. Michael Chekhov was warned to leave Russia in 1928 at the height of his acting and directing career; his productions were too experimental for the Soviets and were labeled "alien and reactionary." Michael Chekhov then spent eight years in Europe, acting, directing, and teaching, but was greatly handicapped by language, political factions, and the threat of war. In 1936, Beatrice Straight invited Michael Chekhov to establish the Chekhov Theatre Studio, a training program for a company of actors at Dartington Hall in England. In 1939, the threat of war with Germany caused the group to relocate to Ridgefield, Connecticut until it was forced to disband because it lost its male members to the draft. In 1942 he was invited to Hollywood, where Michael Chekhov became an acting coach to the stars, acted in many films, published his book, "To the Actor," and taught a group called The Drama Society. Prominent actors in Hollywood who studied with him were: Gary Cooper, Marilyn Monroe, Gregory Peck, Patricia Neal, Clint Eastwood, Leslie Caron, Anthony Quinn, Ingrid Bergman, Jack Palance, Lloyd Bridges, and Yul Brynner (who wrote the preface to Chekhov's "To the Actor.") But, Michael Chekhov died in 1955, before his work became widely known. Other prominent actors who did not study directly with Michael Chekhov, but who benefited from his techniques are Anthony Hopkins, Jack Nicholson, and Richard Kiley.
Michael Chekhov Technique
The Art of Transformation

Weekly Classes HB Studio
Wednesday 6:30-8:30pm
February 12 -March 24th

Email Us at : actorschekhovstudio@gmail.com


"The longing for knowledge makes the real artist brave.
He never adheres to the first image that appears to him, because he knows that this is not necessarily the richest and more correct.
He sacrifices one image for another more intense and expressive, and he does this repeatedly until new and unknown visions strike him with their revealing spell."